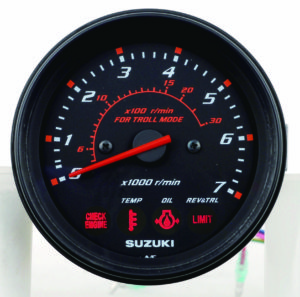 Since 2012 Suzuki offers Suzuki Troll Mode System for its Lean Burn outboard models, which gives boaters
very fine control over engine speed at low revs. This was a move that delighted fishermen and commercial
boat users and we would like to explain its functionality to all our customers.
The Suzuki Troll Mode System is easy to use and comes complete with a specific tachometer and
independent control switch. The system can be used with Suzuki's MFG digital gauges or with 'dual scale'
analogue gauges. Also, the control switch for Suzuki's Troll Mode System can be installed anywhere on the
console to suit the helmsman's preference.

The actual trolling control setting is programmed into the engine's ECU and once the engine is in gear, the helmsman
simply needs to push the Troll Mode switch to engage it.
Once it has been activated, the engine's revs can be adjusted in 50rpm intervals simply by pressing the Troll
Mode control switch from idle up to 1200rpm. If the helmsman needs to increase the revs above this, on the throttle, then the system will stay activated up to 3000 revs. If 3000 revs are not reached and the throttle is closed the system
will revert back to the last setting. This system will enable fishing boats to move at a constant trolling speed and it will also assist skippers of workboats when they are manoeuvring at close quarters. Suzuki end-users find this particular feature extremely useful in both the leisure and commercial boating markets.
The Suzuki Troll Mode System is available on lean burn outboards from 40hp and up and manufactured from 2012 onwards. Customers can obtain more detailed information on availability from their local Suzuki Marine dealership or by visiting the Suzuki website at
www.suzukimarine.co.za
https://outboardplanetmadagascar.com/wp-content/uploads/2018/09/TROLL_MODE_01.jpg
1723
1743
nautymotorsport
https://outboardplanetmadagascar.com/wp-content/uploads/2019/09/LOGO-OUTBOARD-PLANET.png
nautymotorsport
2018-09-14 03:49:38
2018-09-14 03:49:38
Suzuki Troll Mode System